Vivek Maddala is an international award-winning composer and multi-instrumental performer. He has scored numerous feature films, theater & dance productions, and TV programs over the past decade. His music, which combines melodic symphony writing with modern ethnic textures from around the world, has been described as "an emotive frenzy of guitar, percussion, brass, woodwinds, and strings." He is a Sundance Institute Lab Fellow for film composition, and recently had work premiere at the Cannes, Toronto, Berlin, and Sundance film festivals.
In addition to scoring films, Vivek has produced music for a number of rock, jazz, and world music CD releases -- and his live performances collaborating with celebrated artists have enchanted audiences from around the globe. As a performer, Vivek journeys fluidly through diverse musical styles, and effortlessly between many instruments -- including drums, piano, guitar, and bass. He has also served as a guest conductor with renowned orchestras and chamber groups, performing work he has written for ballets and films.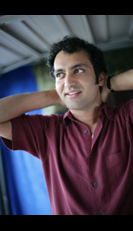 Vivek has always sought to write music in the service of achieving social progress -- to comment on world affairs and to affect them positively. His score for They Turned Our Desert Into Fire blends North African percussion with shadowy string textures and haunting vocals to illuminate the film's story of humanitarian crises in North Africa. His brooding, passionate score for The Ace of Hearts invokes the broken social and economic structures that promote poverty and injustice in the US (and elsewhere around the globe). Accordingly, Vivek continues to seek out projects that lift the human spirit -- to challenge the function of war and elucidate the human condition. His works, extraordinarily diverse in style, stand out among contemporary compositions for their depth of expression, brilliance of sound, and profoundly humanist nature.
When scoring films, Vivek speaks with his unique musical voice. In a field where so much music sounds uniform and alike, Vivek has developed a personal style capable of expansive power and color, yet with remarkable sensitivity and subtlety. His music supplements and strengthens the narrative and emotional components of the film, characterizing and framing the picture -- above all, serving the dramatic vision of the director. Elegant musical motifs and careful orchestration combine to give Vivek's music a distinctive flavor that moves gracefully between tradition and innovation; with equal parts euphoria and introspection; frantic while elegant; drunken yet precise; and utterly human.